"….Yayasan Kebajikan Negara (YKN) is fully committed to help the government's efforts and aspirations to improve the people's quality of life…"

​

– Chairman, Yayasan Kebajikan Negara​
Activity Photos
Facebook
YAYASAN KEBAJIKAN NEGARA shared a post.
4 days ago
Devastating news, so sorry that this happened to you on your holiday in Malaysia. Nothing I say is going to mend your broken hearts. We miss our loved ones who have left us they always have a place in our hearts forever.
Kt mn kak jah ms budak Melayu kna hentam smpai meninggal tepi highway. X sad ke? Pilih bulu...
Wayang jerr lbihh..sedih yg dlm negara nie byak yg meninggal sbb mereka yg ZALIM..kenapa senyapp jerr
She is only 15yrs old who has learning and physical disabilities. How could someone be so cruel to a harmless human being? 😣😣😣
So very sad about the death of Nora Anne, deepest condolences to her family, Make sure after this, he police will do their utmost to unravel this tragic death
To #Ireland people's take any action for Nora Anne death You people's need justice RIP Nora Anne
Politicians in Malaysia are too busy fighting each other while it looks like this place is being more unsave
Dr Wan Azizah Wan Ismail what about two missing soldiers in Pulau Perak, Kedah last month ? Can you do something similar to effort put on Nora disappearances ? Those two soldiers family desperate due to lack of effort to locate them.
Don't just be sad and send condolences and go about your work, she didn't pass away on her own knowing the condition she was found. Make sure the culprit is apprehended...if not don't bother to send condolences to anyone
Ajk rkyt bw lilin dkt pusara ya Dato' seri..bru nmpk tnda kesgguhan...mesia bolehhhh.!!!
ya,kami rakyat msia sgt sedih dgn tragedi yg menimpa Nora.moga keluarganya tabah mnghadapi peristiwa ini.
Nobody want to ask what's the cause of death?
Salam takziah kepada keluarga mendiang semoga ahli keluarga nya tabah menghadapi dugaan ini apa pun trmaksi kepada semua aggota yang terlibat dalam misi mencari khususnya POLIS NEGERI SEMBILAN yang bertungkus lumus untuk mencari dan tidak lupa juga kepada PGU yang serta hanya allah sahaja yang mampu membalas kebaikan dan pengorbanan tuan" semua POLIS DAN MASYARAKAT BERPISAH TIADA
Let people know we have no time to do bad things. This is our last mission in the world.
Our deepest condolence to the bereaved family!
Hello Kak Wan banyak budak budak tempatan yg hilang tiap hari... Apakah langkah2 yg harus kerajaan buat??? Bolehkah pihak kerajaan mengatasi masalah ini????
We Malaysian also felt sad for this heartbreaking news. May her soul RIP.
It's a big news in UK about her death . RIP Nora Anne .
Unravel the truth of her tragic untimely death.
Inna lillahi wainna ilaihi roji'un... 😢
Our deepest condolence to late Nora Anne..n her family. RIP
Pls stay focus gan hj n kurang kan politik.tq
Minah saleh mana ni pulok?
RIP Nora Anne ...
Salam takziah semoga keluarga mendiang tabah menghadapinya dan terima kasih kpd yg terlibat dalam misi ini hanya ALLAH yg membalasnya Aamiin
Twitter

1 month ago
Let join MyCSOEP.Get yourself registered now at this link now: https://t.co/56VgVSKtee
Get more info in the link.See you there! https://t.co/NzbGUKI59k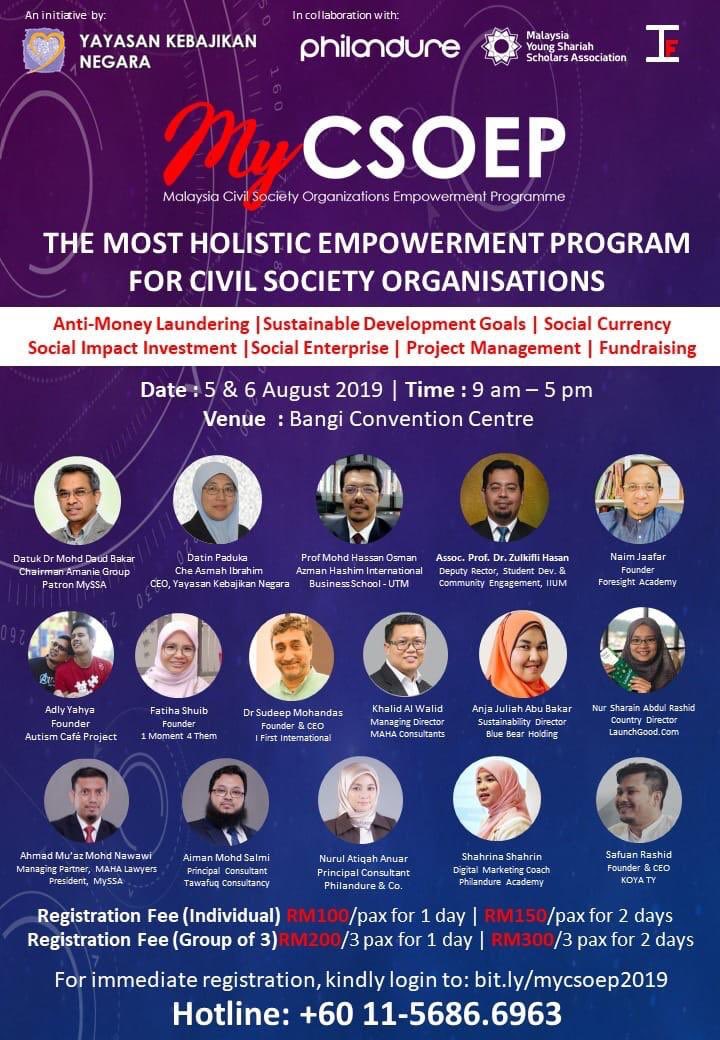 3 months ago
16.5.2019 Anjung Singgah KL

Program Tazkirah, Iftar Ramadhan dan solat jemaah bersama penghuni Anjung Singgah KL hari ini dihadiri oleh Ketua Pegawai Eksekutif YKN, YBhg Datin Paduka Che Asmah Ibrahim dan... https://t.co/ZYDd01aGoY
WANT TO DONATE?
It takes only 3-minutes to donate. Fast & easy. Your donation is greatly appreciated.